26TH SERIES OF TALKS FOR ARCHITECTURE FUND
POSTER ILLUSTRATION FOR THE 26th SERIES OF TALKS FOR ARCHITECTURE FUND BY JOANA DURÃES

During November and December in 2019 Povilas Marozas together with architectural historian Eglė Bazaraitė curated the 26th series of talks for Architecture Fund that was held at National Gallery of Art and community space 'Miesto Laboratorija' in Vilnius. The series was called 'Between buildings: landscape, public space, environment' and was dedicated to explore the rich and ripe scene of design and artistic practices that shape, transform and articulate urban and rural open spaces around us and inquire into different contexts and complexities that they engage with.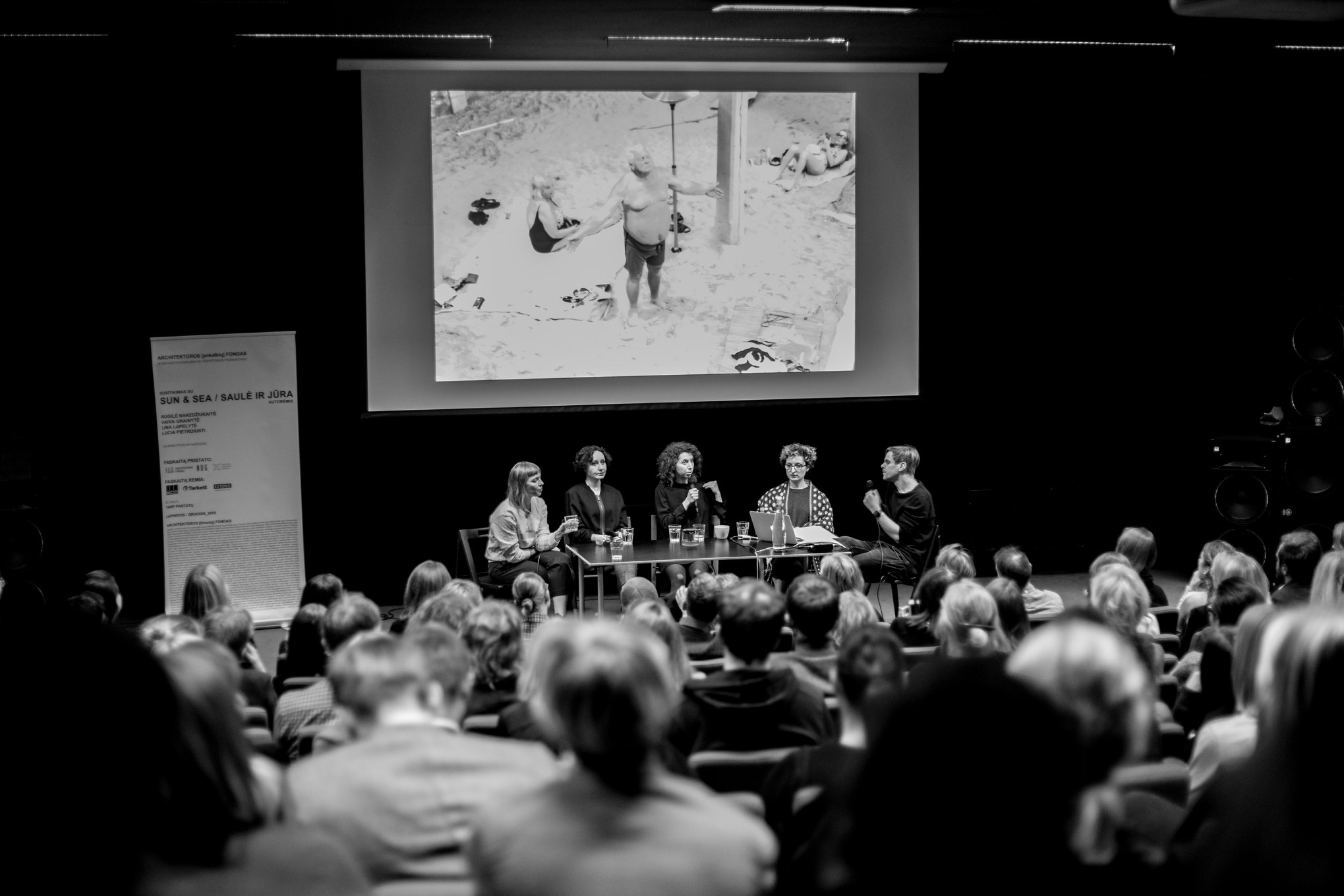 PHOTOGRAPHS FROM THE TALKS: I. DJAO-RAKITINE 'BACK TO BASICS', DISCUSSION WITH SUN&SEA(MARINA) AUTHORS AND CURATOR (MODERATED BY P.MAROZAS) AND J.HAMPTON AND D.REA DISCUSSION 'LITTLE HALDENS, THE SECLUDED VALLEY' (MODERATED BY L.REKEVIČIUS). PICTURES BY SILVIJA VALEIŠAITĖ

Stretched across five weeks the events aimed to ask what kind of cultural and environmental qualities do landscape architecture, community-led and artistic interventions put forward and what kind of meanings these types of work convey to different users of shared urban, suburban and natural environments. Among the presenters were French landscape architect Irene Djao-Rakitine, Sun& Sea(Marina) opera-performance authors artists Rugilė Barzdžiukaitė, Vaiva Grainytė, Lina Lapelytė and curator Lucia Pietroiusti, community activist from 'Miesto Laboratorija' Agnė Gaisrė and artist-activist Evelina Šimkutė from 'Šilainių Sodai', British landscape architect Daniel Rea and architect James Hampton from Periscope and Swiss-based landscape architect Céline Baumann.