INFORMATION STANDS OF PANERIAI MEMORIAL PARK
Located at Paneriai woodland at the outskirts of Vilnius Paneriai Memorial Park is a site where Ponary massacre (1941-1944) took place. A vast area with well preserved topography of massacre pits today is overgrown by pine forest. Since 1948 a number of different commemoration monuments were erected to remember people of different origins who were murdered there. Studio Space/Time was invited to design permanent information stands that would mark and provide different information about separate sites and objects scattered across the park.
Location: Paneriai Memorial Museum, Vilnius District, Lithuania
Graphic designer: Eglė Vitkutė
Current Status: Ongoing
Year: 2019-2020
Typology/Primary Purpose: Information Stands
Site Area: ~72 Ha
Stages: Concept design to construction
Client: Vilna Gaon State Jewish Museum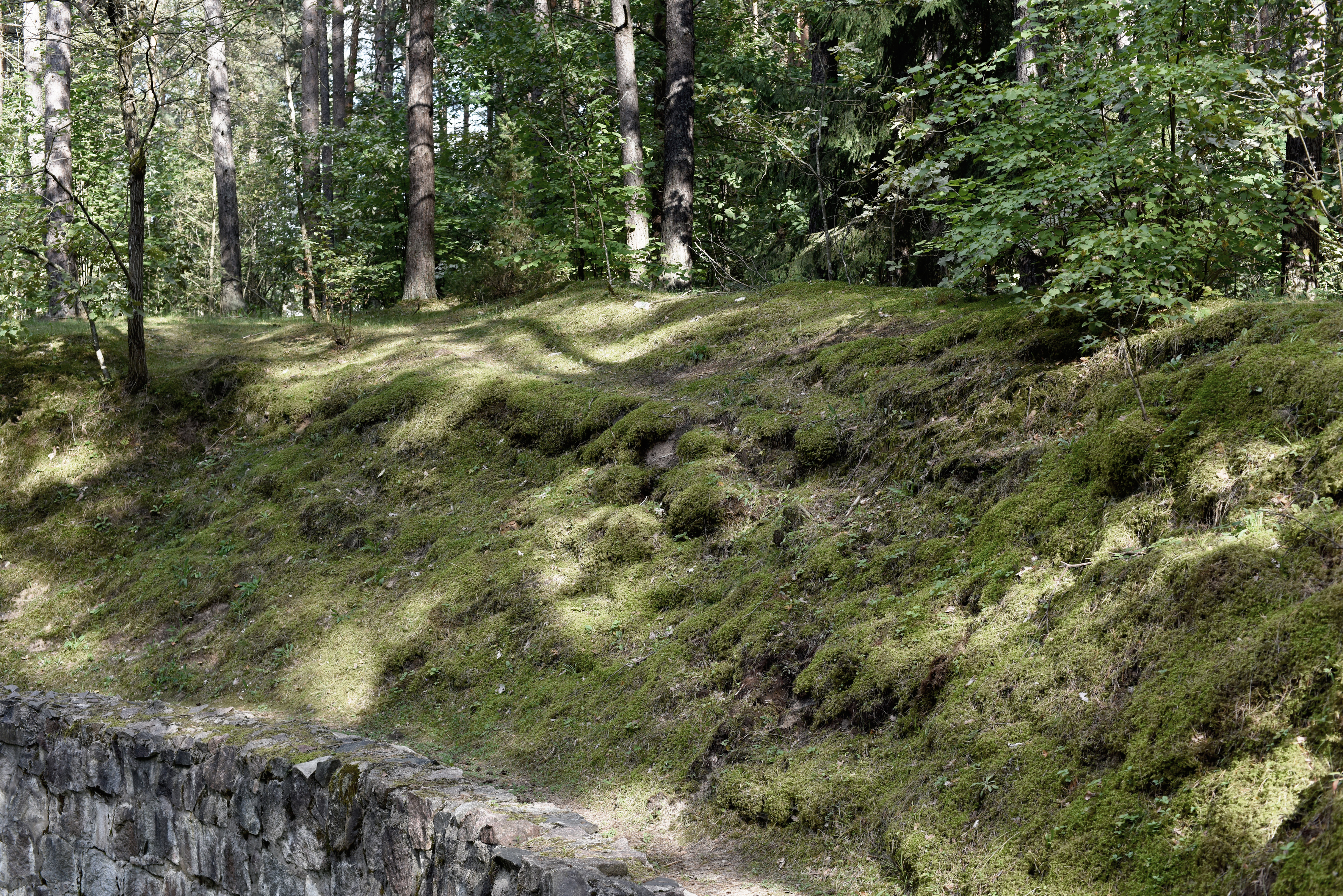 PHOTOGRAPHS MADE IN PANERIAI MEMORIAL PARK SHOWING THE TOPOGRAPHY OF MASSACRE PITS AND TRENCHES
In order to propose sensitive solution during the process of developing this project we had to engage carefully with multiple contexts that the site and objects within it are entangled with. We started with close study of existing character and features of what is perceived to be natural environment in order to determine what type of objects would be appropriate in this place. We looked closely at material and textural configurations of commemorative monuments and other sculptural features across the site to find a best material arrangement that would be durable and fit seamlessly to the natural setting, yet would not compete with existing elements semiotically. We suggested to use concrete of damp pine trunk colour together with steel and glass for bigger stands.
1/5 MODEL OF PROPOSED INFOMATION STANDS, SELF-DRYING CLAY, CARDBOAD, PERSPEX
We were asked to design three different sizes of the stands to contain different amount of information. The smallest is designed as a small bollard with concise text and is used to briefly describe commemorative monuments. The large and medium stands differ in their form and are designed as display cabinets.
ILLUSTRATIVE VIEWS OF SMALL, MEDIUM AND LARGE INFORMATION STANDS AT PANERIAI MEMORIAL PARK





We suggested our client to expand the permanent exhibition located at the visitor centre and to bring some of the artefacts and documents to the landscape. Besides showing explanatory texts and territory map both the large and the medium stands are designed to feature additional graphic material such as photographs, letters and other archival material. Medium stands will be placed next to most of massacre pits while large ones will mark most significant elements on the site.
POSITIONS OF PROPOSED STANDS INDICATED ON 1941 AERIAL PHOTOGRAPH (MADE BY LUFTWAFFE) AND CURRENT SURVEY PLAN



Currently we are building prototypes of each of the stand type in order to test them on site and check their structure.