SUSIKALBĖJIMO MODELIS
Kas yra viešoji erdvė? Kaip ji turėtų keistis? Kokiu būdu šiuos kaitos sprendimus galima priimti? Ir kiek šiame procese svarbus mūsų – piliečių – balsas? Esminiai klausimai, mąstant apie viešųjų erdvių dabartį ir likimą.

Šiandien, matydami sparčiai besikeičiantį Vilnių, vis labiau pasigendame to gyvo įvairių visuomenės sluoksnių įtraukimo ir įsitraukimo į bendro sutarimo paieškas. Neapleidžia jausmas, kad sprendimai vis dar "nukrenta iš viršaus", o mums belieka tik susitaikyti ir stebėti, kaip istorinius pastatus keičia ar užstato naujieji, kaip virsta istoriniai paminklai, išardomi grindiniai ar kruopščiai – beveik steriliai – sutvarkomi parkai, žaliosios erdvės. Įspūdis – lyg vis labiau prarandame miestą, teisę į jo ateitį.

Ne išimtis ir Petro Cvirkos skveras su centre esančiu paminklu – daugiasluoksnė miesto erdvė. Ji (jau nebe pirmoji mieste per kelerius pastaruosius metus) atsidūrė kryžkelėje – "nugriauti negalima palikti". Ir kur bus padėtas tas išganingasis kablelis, panašu, vėlgi turi nuspręsti biurokratai ar politikai, kurie tiesiog privalo atlikti užduotį. Ir kuo greičiau, tuo geriau.

Laimė, atsirado erdvės nedaryti skubotų sprendimų, užsimezgė pokalbis su visuomene. Ugningas, ne visada lengvas, bet gyvybiškai būtinas. Juk P. Cvirkos skvero padėtis urbanistiniu požiūriu netrukus pakis, skveras bus vienaip ar kitaip rekonstruojamas, nes iškilus naujajai miesto Koncertų salei ant Tauro kalno, jis taps pagrindine jungtimi tarp Tauro kalno ir Senamiesčio. Todėl mes tikime, kad miestui svarbu išplėtoti daugiasluoksnę ir daug skirtingų vertybinių pozicijų įtraukiančią diskusiją, leidžiančią priimti sprendimus, kurie būtų socialiai atsakingi ir atspindintys bendras įsitraukusios visuomenės vertybes.


Taip gimė idėja inicijuoti meninį analitinį tyrimą, kuruojamą tarpdisciplininių sričių profesionalų ir ieškantį išeičių iš, sutikime, kompleksinės situacijos. Tokios, į kurią beveik visada įpuola miesto vietos ir objektai, kurie susiformavo ar buvo suformuoti nesenais, sudėtingais ir skaudžiais mūsų istorijos etapais.

Šio tyrimo metu remdamiesi asmeninėmis patirtimis kuriant ir tyrinėjant viešąsias erdves bei tikėdami tarpdisciplininio bendradarbiavimo galia, norime sukurti modelį polemikai apie konfliktiškas viešąsias erdves. OP. Cvirkos skvero likimo klausimą matome kaip šio tyrimo pradžios tašką – pilotinį atvejį, kuris taptų analogu svarstant ir apie kitas erdves. Ne tik Vilniuje, bet ir kituose Lietuvos ar Europos miestuose.

Vykdydami tyrimą ateinančiais metais sukursime įtraukiančią, draugišką ir visiems prieinamą platformą, kuri suteiks galimybę rastis, kleistis ir kauptis su P. Cvirko skveru susijusiai tyrimo medžiagai. Į platformos ir skvero archyvo kūrimą įtrauksime sociologus ir psichologus, kurie parengs šiam atvejui tinkamas metodikas ir apklausas, o vėliau, taikant sukurtą platformą, apibendrins surinktas nuomones, išryškins kylančius skvero scenarijus bei padės spręsti nesusikalbėjimo problemas.

Lygia greta kursime erdvinius objektus, kurie aktyvuos skvero erdvę bei paskatins rinktis ir keistis nuomonėmis apie šią vietą. Tikimės, jog atšilus orams skveras taps gyva pokalbių, paskaitų bei susitikimų erdve. Skelbsime apie tyrimą kuo plačiau, siekdami, kad į jo renginius būtų įtrauktas kuo įvairesnis profesionalų bei visuomenės ratas. Vystydami renginių programą bursime partnerius jos įgyvendinimui.

Tikime, kad nepaisant individualių santykių su istorija įvairovės, sprendimus dėl viešosios erdvės ir joje įprasminamos atminties turėtume priimti visi bendrai.

Projekto iniciatoriai yra tarpdisciplininė nepriklausoma komanda, kurią sudaro:

– kraštovaizdžio architektas ir Studio Space/Time vadovas Povilas Marozas, turintis svarbios tarptautinės darbo su viešųjų erdvių projektais, tokiais kaip Tate Modern muziejaus pietinės dalies kraštovaizdžis (su VOGT Landscape Ltd) ar Selfridges Duke Street gatvės viešosios erdvės projektas Londone (su Djao-Rakitine Ltd), patirties;

– menotyrininkė ir parodų kuratorė Ūla Tornau, savo disertacijoje tyrinėjusi Vilniaus pokario urbanistiką;

– menotyrininkė bei kultūros prodiuserė, neseniai įkurto Vilniaus miesto muziejaus direktorė Rasa Antanavičiūtė, neseniai išleidusi knygą apie meną ir politiką Vilniaus viešosiose erdvėse.


Projekto partneriai: VšĮ "Architektūros fondas", Vilniaus miesto savivaldybė, kūrybinė agentūra "Autoriai", VšĮ "Vilniaus Miesto Muziejus"
VIEŠŲJŲ DISKUSIJŲ ERDVĖ: POKALBIAI APIE P.CVIRKOS SKVERĄ

Prieš kelias savaites į Kultūros Tarybos finansuojamų tarpdisciplininio meno projektų sąrašą pateko ir mūsų su partneriais siūlytas viešųjų diskusijų erdvės pokalbiams apie P.Cvirkos skverą kūrimo projektas. Praėjusios savaitės gale sulaukėme didelio ir įvairaus dėmesio iš visuomenės bei žiniasklaidos. Ta proga norime pasidalinti informacija apie pasiūlymą, kuriam yra skirtas finansavimas.

Projektas 'Viešųjų diskusijų erdvė: pokalbiai apie P.Cvirkos skverą' reaguoja į jau kurį laiką Lietuvos visuomenę jaudinančią diskusiją dėl sovietinio viešųjų erdvių paveldo ir siekia sukurti atvirą diskusijų erdvę pokalbiams apie viešąsias erdves ir jų galimas transformacijas.

Viena iš aktualiausių šiuo metu vykstančių poleminių diskusijų - tai Cvirkos paminklo ir skvero likimas Vilniuje. Viešumoje vykstanti diskusija pasižymi poliariškumu ir kol kas matyti mažai pastangų vienai pusei išgirsti kitą. Vieni laikosi nuomonės, kad Cvirkos paminklas turi būti pašalintas, kiti – kad skveras su paminklu yra vientisas, unikalus architektūros ansamblis ir jis turi likti nepakeistas.

Projekto tikslas - sukurti hibridinę platformą virtualioje ir fizinėje skvero erdvėje, kurioje vyktų diskusijos, paskaitos, apklausos, laikinos dizaino intervencijos ir kiti renginiai po-sovietinės Cvirkos skvero erdvės regeneracijos tema. Tikimasi, kad ši, konkrečiai erdvei pritaikyta platforma galėtų tapti bendresniu modeliu sprendžiant panašių erdvių likimą.

Projekto vykdytojai atsiriboja nuo išankstinių nuomonių ir siekia kuo labiau išplėsti, kontekstualizuoti ir viešinti kuriamą diskusiją bei kviečia į ją įsitraukti įvairias bendruomenes, suinteresuotas puses ir individualius asmenis. Tokiu būdu tikimasi rasti būdą susitarti ir nubrėžti socialiai atsakingą, ne tik emocijomis, bet ir žiniomis pagrįstą scenarijų, kuris galiausiai būtų priimtinas įvairias startines pozicijas turėjusioms grupėms. Kuriant platformą bus atsižvelgiama į ribotų fizinių susitikimų kontekstą.

Projekto organizatorius yra viešųjų erdvių ir kraštovaizdžio architektūros studija "Studio Space/Time", MB. Projekto partneriai: VšĮ "Vilniaus miesto muziejus", Vilniaus miesto savivaldybė, VšĮ "Architektūros fondas", Lietuvos tarpdisciplininio meno kūrėjų sąjunga.

P. CVIRKOS SKVERAS
VISION FOR KAUNAS FORT NR. 8
Together with Šilainiai project and Kaunas Fortress Park were selected to develop vision for Kaunas Forth nr.8 as part of international program Actors of Urban Change.


More about the program ︎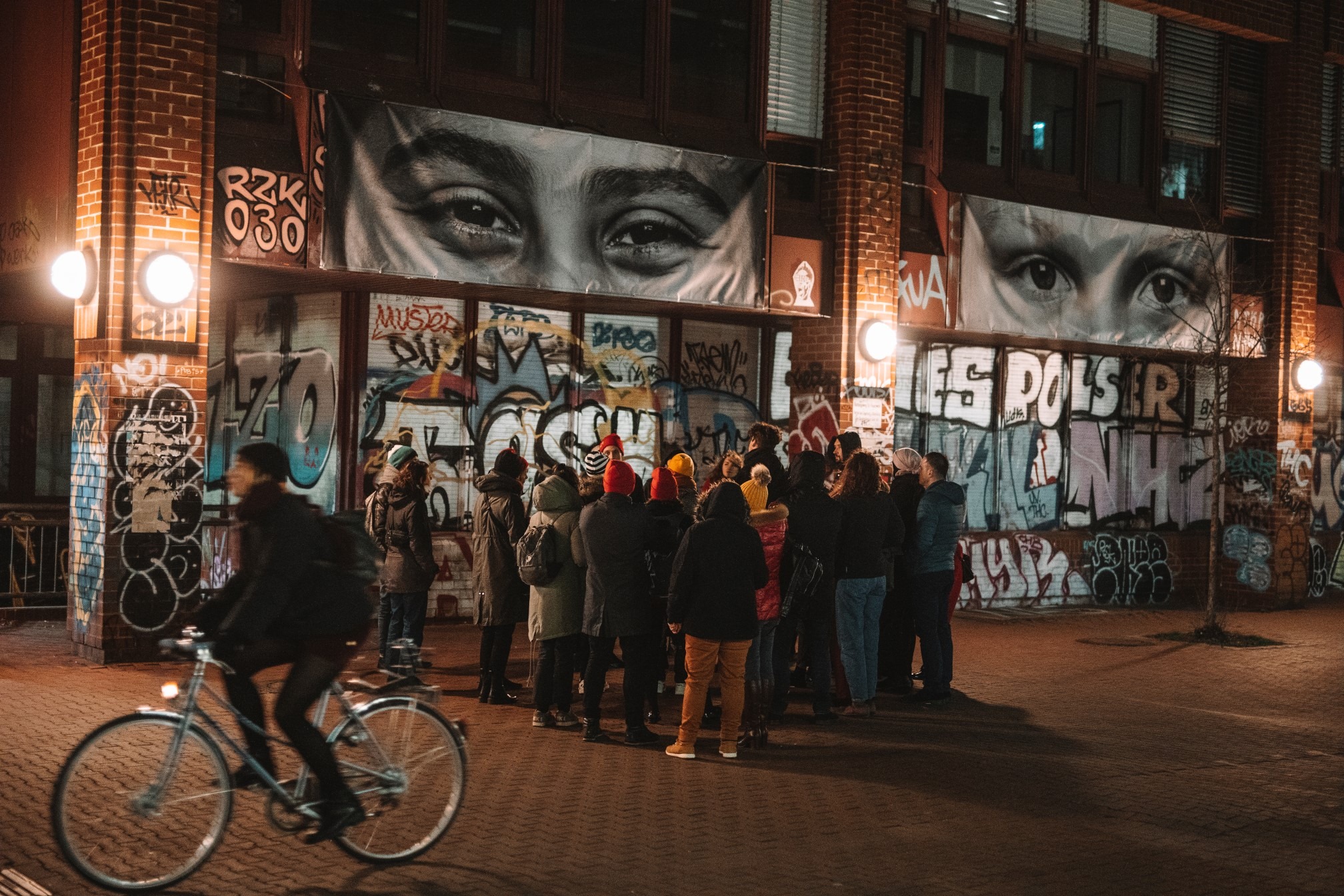 MOMENTS FROM FIRST KICK OF MEETING IN BERLINPHOTOS BY PANOS GEORGIOU
ABOUT THE PROJECT

Military land reclaiming process through culture and urban gardening at Kaunas Fortress Fort no. 8. During this 18 month project our collaborative team will be working on community building by mapping local biodiversity, creating a sustainable, long term vision for this unique place and starting a foundation that will continue to lead the implementation of the strategy and secure the site for community use. Our aim is that Kaunas Fort no. 8 would become a historical park with functional spaces for local communities: urban garden, historical - nature trail and culture, an inclusive, peaceful place for meaningful leisure.

THE 8th FORT WAS THE MOST MODERN ENTRENCHMENT, EQUIPPED WITH ELECTRICITY, SEWERAGE, AND CASEMATES FOR A GARRISON OF 1,000 PERSONNEL IN THE END OF 10TH CENTURY. UNFORTUNATELY TODAY MOST OF THE FORT IS FLOODED AND IN A VERY POOR CONDITION. KAUNAS FORTRESS ASSOCIATION HAS A VISION TO DEVELOP THIS AREA INTO A PARK WHERE DIFFERENT EVENTS AND ARTISTIC EXHIBITIONS COULD TAKE PLACE.BUT FIRST STEP IR TO MAKE THE TERRITORY SAFE, CLEAN AND ACCESSIBLE BY PUBLIC.



ABOUT ŠILAINIAI GARDENS


Majority of the people who moved in to the new estate came from small towns or villages where gardening has always been an inseparable part of life. Living in an apartment building made people recognise how much they were missing this activity that they left behind. New comers noticed the fort territory and even though it was abandoned, run down and full off bushes and Sosnowsky's hogweed they started to prepare it for gardening.

People were continuously cleaning the territory, planting trees and establishing community gardens. Around year 1999 gardens were quite well established with active community and community events.

During the years a lot of original gardeners retired and gardening became one of the most important activities during the warm seasons. Unfortunately at the same time there started to appear more robberies and random destructions. This led to reduced feeling of safety and combined with old age some gardeners stopped their activities. In the spring of 2018 there was a try to forbid gardening in general. During the summer some greenhouses were burned. Gardening community is feeling frightened but the wish to work the land stays strong even though the vision of the fort is unclear.

In the autumn of 2018 different stakeholders, groups and community representatives started the work on clarifying the vision of the Vlll Fortress and Gardening in the area. Meetings are being held, gardening history is being written down and plans to save and support gardening are being drafted.


THERE ARE ALREADY MANY ACTIVITIES HAPPENING WITH STRONG LOCAL COMMUNITY, WICH ARE INITIATED BY THE ŠILAINIAI PROJECT.
PHOTO BY EVELINA ŠIMKUTĖ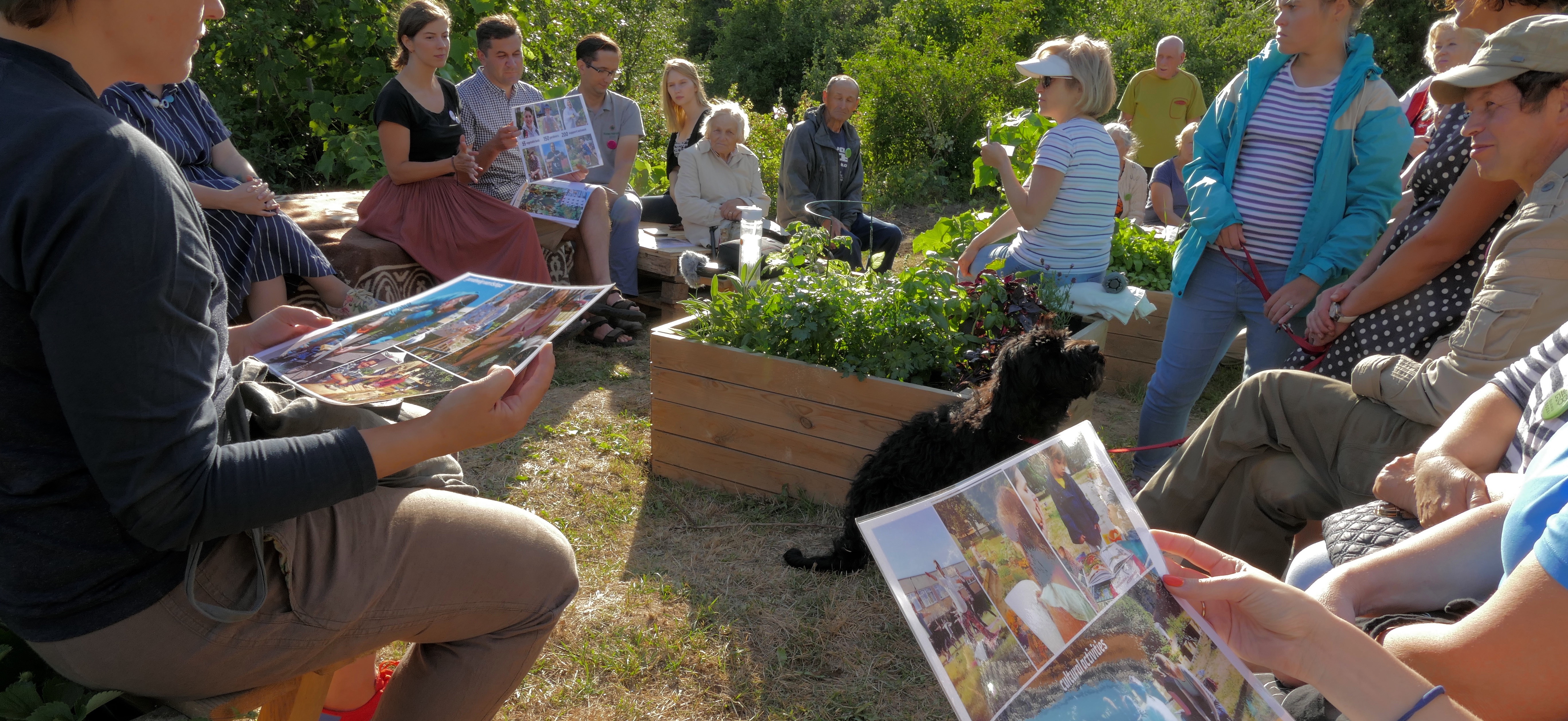 Some time ago we have put forward an application for this year's public art funding program 'Kuriu Vilnių' organised by Vilnius Municipality. Collaborating with Architecture Fund, Vilnius Museum and Lithuanian Interdisciplinary Artists' Association we proposed to build a pavilion in P.Cvirka square which would serve as meeting ground for the debates about the future of this space. The project aims to engage with different problematics that relate to the legacy of soviet monuments in contemporary public space and provide a meeting point where different knowledges, worldviews and opinions could be negotiated.

VIEW OF PROPOSED PAVILION FROM STREET LEVEL. SUGGESTED DESIGN SEEKS TO REDUCE THE SIGNIFICANCE OF THE MONUMENT IN THE SQUARE WHILE MAKING IT THE MAIN OBJECT UNDER DISCUSSION AT THE INSIDE SPACE OF THE PAVILION. THE ROOF IS USED AS TERRACE SUGGESTING VIEWS TO THE SQUARE FROM THE EYE LEVEL OF THE MONUMENT WHILE AT THE SAME TIME MAKING IT A PLATFORM TO DISCUSS THE FUTURE OF THIS URBAN SPAC
The main idea was that during warm summer months the pavilion, designed together with architect Sandra Dumčiūtė, should become home for different talks and discussions amongst Vilnius residents, guests, academics and artists. It would also serve as a meeting point for curated walks, platform for various surveys and home for many different events. Besides engaging with complexities of Soviet monument legacy proposed design also seeks to rearticulate this central yet not very lively urban space. We hope that with this project we could trigger a sound and productive public debate about the future of this square.

ROUND IN PLAN SUGGESTED PAVILION IS BUILT AROUND THE SCULPTURE AT THE CIRCULAR TERRACE THAT SERVES AS A PLINTH. THE MONUMENT BASE BECOMES AN ABSTRACT FEATURE OF THE SMALL PATIO WHILE THE SCULPURE ITSELF FALLS BACK TO THE BACKGROUND.

Since COVID - 19 pandemic started and everyone has been touched by quarantine and isolation period, this bizarre new reality have filled our heads with thoughts about slowly evolving changes in our relationship to public space and landscape. One of the more immediate questions during this period is how can we recreate the complexities of public interaction that unfolds in physical public spaces by virtual means and what kind of expertise we as public realm designers can bring to this process. We are currently exploring different ways to rearticulate our proposal for 'Kuriu Vilniui' programme that suddenly could not be realized in the shape that was proposed for the application. The pavilion around P.Cvirka sculpture in Vilnius, that would have served as a meeting ground for the discussions of divisive issues related to controvertial soviet era sculpture and its faith, would no longer serve its main aim and, even with physical distancing rules relaxed, would not be accessible to all the audiences concerned. Working together with our curatorial partners and other specialists we aim to create the right virtual alternative for this place that would enable us to host this expanded public consultation process with the originally planned accompanying programme of lectures, talks and walks.
26TH SERIES OF TALKS FOR ARCHITECTURE FUND
POSTER ILLUSTRATION FOR THE 26th SERIES OF TALKS FOR ARCHITECTURE FUND BY JOANA DURÃES

During November and December in 2019 Povilas Marozas together with architectural historian Eglė Bazaraitė curated the 26th series of talks for Architecture Fund that was held at National Gallery of Art and community space 'Miesto Laboratorija' in Vilnius. The series was called 'Between buildings: landscape, public space, environment' and was dedicated to explore the rich and ripe scene of design and artistic practices that shape, transform and articulate urban and rural open spaces around us and inquire into different contexts and complexities that they engage with.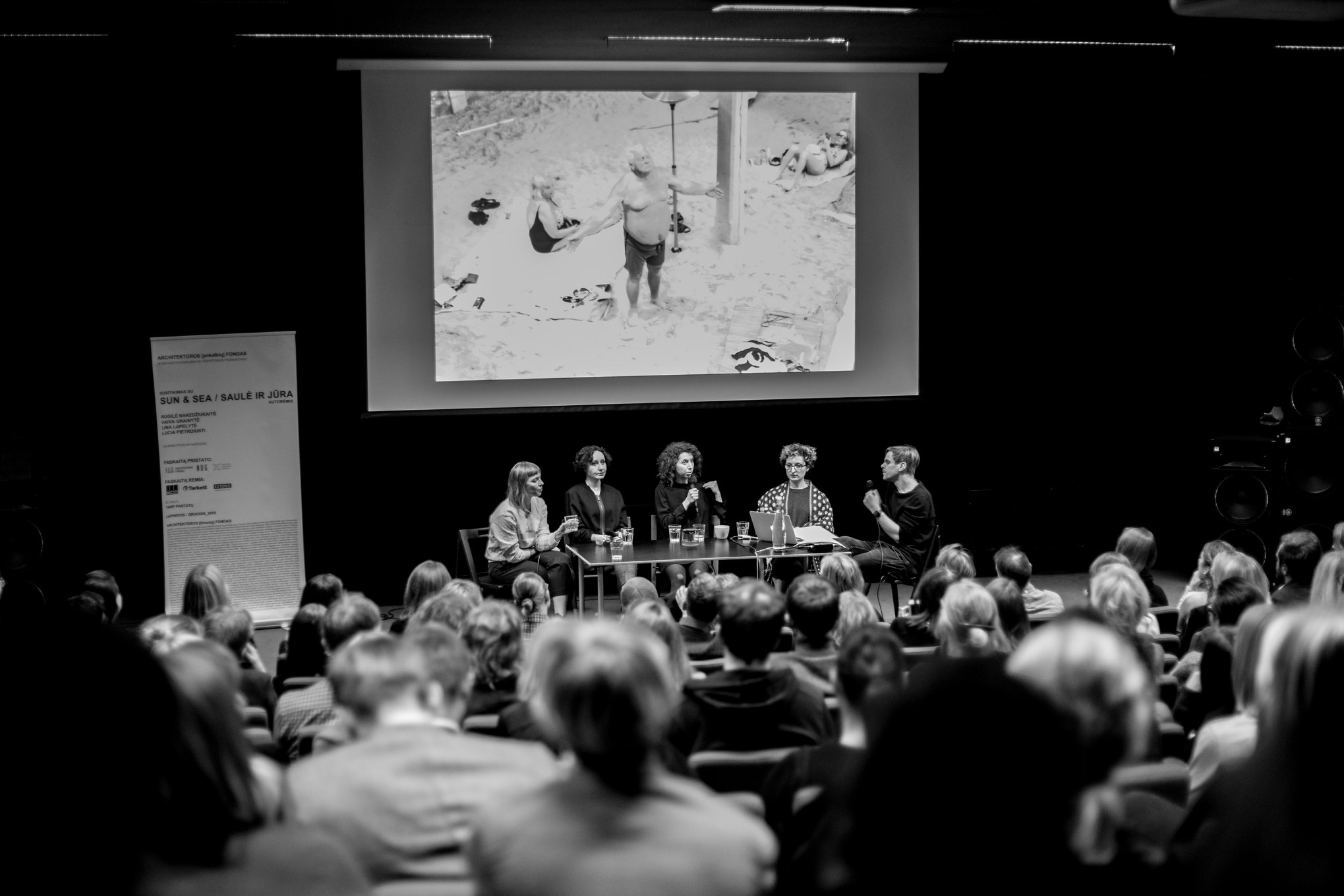 PHOTOGRAPHS FROM THE TALKS: I. DJAO-RAKITINE 'BACK TO BASICS', DISCUSSION WITH SUN&SEA(MARINA) AUTHORS AND CURATOR (MODERATED BY P.MAROZAS) AND J.HAMPTON AND D.REA DISCUSSION 'LITTLE HALDENS, THE SECLUDED VALLEY' (MODERATED BY L.REKEVIČIUS). PICTURES BY SILVIJA VALEIŠAITĖ

Stretched across five weeks the events aimed to ask what kind of cultural and environmental qualities do landscape architecture, community-led and artistic interventions put forward and what kind of meanings these types of work convey to different users of shared urban, suburban and natural environments. Among the presenters were French landscape architect Irene Djao-Rakitine, Sun& Sea(Marina) opera-performance authors artists Rugilė Barzdžiukaitė, Vaiva Grainytė, Lina Lapelytė and curator Lucia Pietroiusti, community activist from 'Miesto Laboratorija' Agnė Gaisrė and artist-activist Evelina Šimkutė from 'Šilainių Sodai', British landscape architect Daniel Rea and architect James Hampton from Periscope and Swiss-based landscape architect Céline Baumann.